There's a lot of recent news, including Paragon's efforts at a 24 hour time trial – yes, a whole day in the saddle; the Rapha Women's 100; Penny Farthing racing and celeb spotting at the Nocturne;  5k of climbing in temperatures of 40C – Marmotte 2015;  and is your cycling poetry in motion? An Ode to the Ditchling Devil…
80th Anniversary Dinner
A quick reminder from the social crew to get your tickets for what promises to be a great evening. Apart from the opportunity to eat and meet OFF the bike – and in a posh venue – you can chat about Paragon's past with 12 of the club's honorary members. There's no dress code but do feel free to add some 1930s style touches (there are hints of prizes for you competitive types). Special diets catered for too so get clickinghere.
Dulwich Footpath Hill-climb – DJB writes:
Now in its second year, it was another great afternoon on the slopes of the Alpe D'Ulwich. Seventy plus riders took part, including a guest appearance from Simon "100 Best Climbs" Warren. He was expecting to be the sole competitor in the Bike + Child in Baby-Seat category and found he had competition from club member Stephen Morton plus ankle-biter. First man up the 0.5 km / 18% incline was Chris Law, a member from way back when, who set the Master's standard with 1:34.
As the afternoon wore on, the keenest competition was in the Wacky Bikes category. Eventually won by Graham Little, who replaced saddle and seat post with a standard lamp and shade decorated with ping-pong balls, sat on the handlebars and rode up the hill backwards (yes, backwards) in 2:38. He lost style points because the lamp didn't light up, though.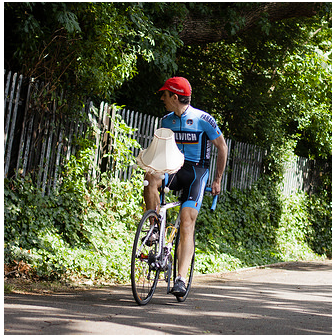 Several grown men who should have known better attempted it on childrens fairy-cycles. At least Carl Statham was on a bike the right size for him. He claimed the Lanterne Rouge with… well, who knows – we got bored waiting for him. The sensible categories (Fastest… Man, Woman, Junior U18, Vet 40+, Super-Vet 50+ ) were won by Jonathan Gales (0:50) Dalila Lecky (1:10) Max Lawson (1:09) Ben Allen (0:53) Mark Earl (1:17) respectively. Fastest Fixie – James Corlett (1:05) Fastest Hand-Cycle – Alex Brooke Turner (2:23)
The Silly Costume competition attracted one man (Jonathan Maher) and one woman (Clara Jones) which made prize-giving easy. As tradition demands Clara was up all night stitching tiny sequins in the shape of a miniature Crystal Palace transmitter on her blue-sateen tutu. Not exactly aero but she still went up en danseuse in a spirited 1:34. Jon's rather unpleasant nude skinsuit-onesie thing, with 'interesting' crotch detail (at least I assume that was the skinsuit, didn't like to look too closely…) won the men's prize, scared some spectators and reduced several small children to tears. The real tragedy is that he often wears it around the house.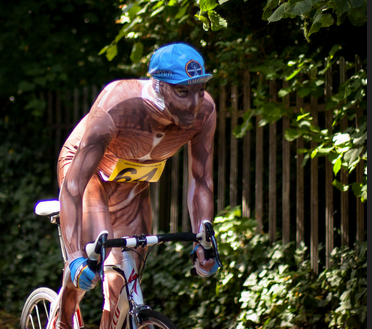 The Slow Race – winner last up the hill, no stopping allowed – turned into a war of attrition between Graham Little and young Eddie Davies, showing the sort of aggressive style that often translates into the urge to invade countries in later life. The winner however was David Rees (who also won the folding-bike category – mainly because he was the sole contestant – and the MTB race. His book "How To Win Everything And Lose What Few Friends You Have" is worth a read…) His Slow Race tactic was to ride to just short of the finish line and do a barely-discernibly-creeping track-stand until the others slugging it out behind him fell off. Then he sped across the line. A win – technically. But morally…? You be the judge.
After the riding came prizes, assembled at no expense whatsoever, followed by the real attraction of the day – drinking in a pub garden on a warm and sunny afternoon. And after that it's all a bit of a blur…
Thanks to: Time-keepers, marshals, holders at the bottom, catchers at the top, Alex the Pix, helpers; the Dulwich Estate for permission to use their hill; the tolerant neighbours; Alex Duyckers at Le Bicycle for his generosity; Simon Warren for prizes; likewise Iain MacGregor. Jen George threatened people into chucking money in her ice-bucket, and raised £105 to which we will add On The Line takings, so we can send Athol House, the Leonard Cheshire Disability establishment in College Road, £200.
Smithfield Nocturne
Paragon's Russ Hogge took part in the Nocturne Penny Farthing race resplendent in club kit rather than the retro gear and facial foliage favoured by much of the field.  The crowd produced a "huge wall of noise" apparently, giving the event a great atmosphere.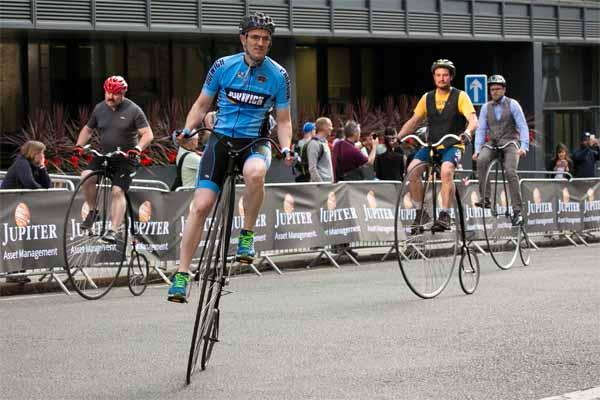 Russ clocked an average speed of 14.5mph over the 6.5 miles – and a top speed of 19.5mph, which sounds plenty on a top-heavy machine, but says:
"If I am going to do better I will have to do more training and get a bigger wheel. To that end I had a ride on one of the new racing machines made by Unicycles.com and I was amazed at how much more power it felt like I had on the bigger wheel.
While I was getting the feel of the machine I recognised a chap walking up towards the race circuit. He shouted a hello and asked a question about the bike. He was Michael Hutchinson ex-pro rider and time trial rider.
After expressing an interest in the penny I was riding, I naturally offered him a go. So I can now claim that I have given someone truly famous from the world of cycling and holder of multiple time national champion his first lesson in how to ride a penny farthing.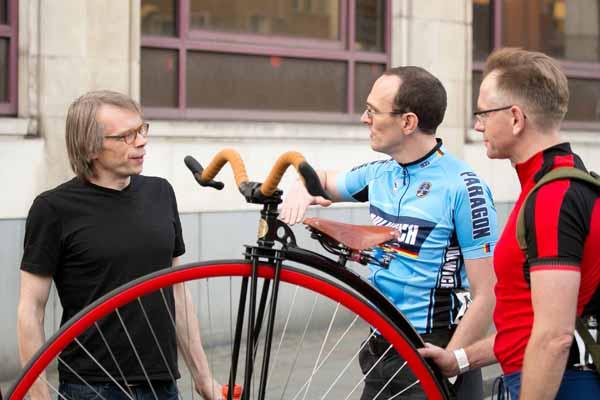 He is currently writing a book about the history of cycling and bicycles so wonder if I will get a mention."
Read more on his blog.
Time Trialing mid-season report – Serge Bouschet writes:
In this issue we celebrate Paragon's achievements in the National 24 hours, evening 10 series, National TT championships and our Harry Must club event.
Mersey Roads 24 Hours TT
At the end of the day, the challenge is very simple to understand, it's about cycling the furthest possible distance in 24 hours. This year a team of three Paragonistas entered with both individual and team expectations of a possible podium place. Alex Kirk completed a phenomenal 497 miles despite some misfortune (a puncture where support was unavailable) and freezing overnight rain, and finished on the podium with an amazing Third place.
Brilliant efforts from Sam and George saw them finish respectively 14th and 31st, narrowly missing out the top prize in the team competition, with an incredible total of 1320 miles in 24 hours! That's the equivalent of Lands End to John o'Groats – or a four-digit Strava suffer score!
This was a true team effort with Martina supporting the men over the whole weekend. I understand there's more to come next year since Alex has unfinished business with this event. Read the full story here.
Evening 10 Series
Dulwich Paragon riders have had great success during evening closed circuit TT series this season. In particular, Alex Ioannides won the Velopark 10, succeeding Greg Moss who won the inaugural series last year. Can DP do the hat-trick next year? Also good placings for Iain Boardman with Third overall (First Vet), Alice and Dalila coming Second and Third in the Senior Women's category. Almost total domination, DP is velopark's team BMC!
At Hillingdon, Ben Allen rode some very fast rounds on the Wednesday evening series, winning the latest event with a short 22 on 10.5 miles circuit (11 laps). Last race is on the 12th August.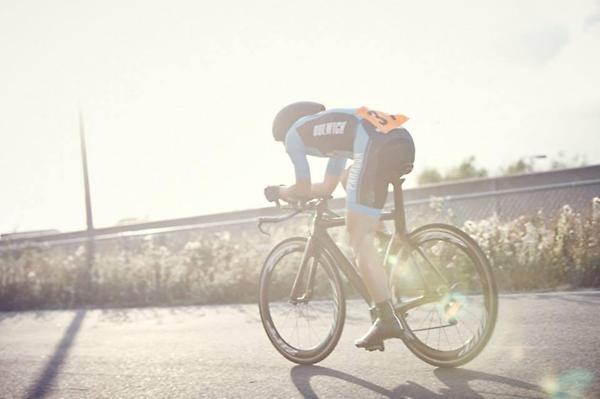 National Championships
It's not often that Dulwich Paragon is represented at the National Championship week, with TV coverage, grand tour riders and previous hour record holder. Ben Allen was selected to ride the Senior TT competition, eventually won by Alex Dowsett on a testing course in Lincolnshire. In his own words, he "didn't finish last". Taking part requires some courage, so well done Ben on your 33rd place! Full results here.
Club Events
Finally a few words on our own Harry Must series which came to an end on Thursday 6th August. Simon Collins won the men's trophy and Olivia Campbell took the women's prize. Despite a modest turnout, let's not underestimate these achievements. The Cudham course is hard to master: It's easy to overcook it and everyone suffers badly up the final hill. You should  see the pain faces at the finish! Special mention to Will Brassington who won the Youth category and David Emery who posted the fastest times in the web 2.0 era.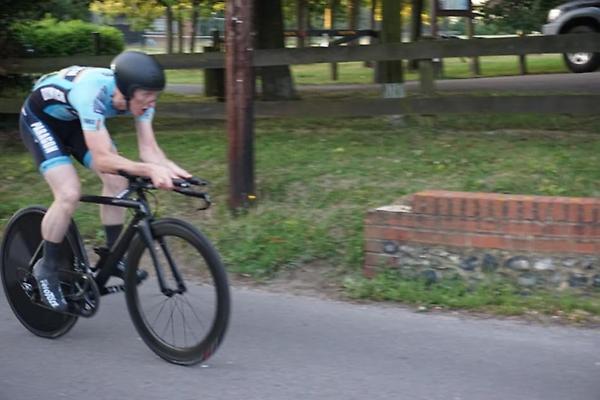 We're now looking forward to the Dulwich Paragon Open 10 that we're promoting on the Dorking course on Saturday 22nd August, which also doubles up as our Club Championship for the 10M distance. All the best everyone!
(Not quite) The Marmotte – Jules Joseph writes:
Eight Dulwich Paragon members took part (and three failed to finish) in this years Marmotte one of the oldest, and reputedly, toughest cyclosportives in existence. This years route was altered due to the closure of the Tunnel du Chambon after a landslide. The Col du Galibier was removed and replaced by Col du Mollard, Col de la Croix de Fer and Lacets de Montvernier . However, the overall stats remained the same: 176km with a fearsome 5,200m of climbing.
The Allemond contingent (myself, Hans van den Berk and John John) arrived on Wednesday and enjoyed a couple of glorious days riding, ignoring any considerations of rest or tapering, by tackling Alpe d'Huez and Col du Glandon.  The ongoing heat wave in the area showed no signs of abating, with temperatures forecast to rise further over the weekend.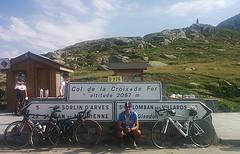 On Saturday morning, we joined the 7,500 other cyclists crowded into the streets of Bourg dOisans. After a very long wait, we finally set off in one of the last groups at roughly 8:00am. We negotiated the Col du Glandon and Lacets de Montvernier without incident. During the ascents of Mollard and Croix de Fer, the temperature was creeping up to the mid 40s. I was stopping frequently to refill my bidons not just at feed stations, but from hose pipes offered by friendly locals, horse troughs, water pumps anything really I lost track of how much I drank, and didnt take a single comfort break all day. The ascent of Croix de Fer was carnage, with exhausted bodies everywhere lying on verges, sitting in streams many people calling it a day and climbing into coaches. Despite a super fast descent back down the Glandon and into Bourg, John and myself both missed the cut-off required for an official finish time (6.15pm), though Hans just made it by five minutes.
Starting the ascent of Alpe d'Huez, I had nothing left to give. I gave it the beans up to the first hairpin, and found myself riding alongside someone walking, pushing their bike. Hairpin 2 was as far as we got. It was 7.30pm and as well as being totally cooked, it was looking increasingly unlikely that we would be able to complete the ride before dark plus we had a 25k ride back to our accommodation on the other side of Allemond after that. Although it was disappointing not to have officially finished, I was very happy to have spent a day riding in such a beautiful area and can't wait to go back.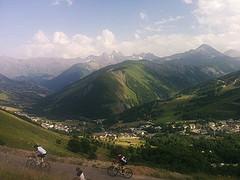 Looking at the results afterwards, of the 7,500 starters, only 4,500 finished this year – no doubt a result of the extreme heat and allegedly harder route. Massive kudos to the Paragonettes (Libby, Emma & Kat) who all completed the route, and our thoughts and condolences to the family and friends of Dutch rider, Ronald Van Den Eijnden, who sadly died of heat exhaustion during the ride.
Rapha Women's 100 – Libby Gordon writes:
It was a Sunday in late July, when 25 Paragonettes gathered in Cadence ready to take part in the worldwide challenge to women set by Rapha to cycle 100km. You would think with it being summer, the sun would be out, the birds would be singing etc… Then we remembered, we live in England – of course it would be cold and wet!
But that didn't deter us and once we'd convinced our Garmins not to take us directly to the pub, we set off. The faster group headed east and the other two south, both routes taking in some of the 'best of' our usual stomping grounds. As the rain came down everyone started to wish for hills to keep warm. Luckily both routes included a few: The lovely Yorks Hill for the speedier lot; and Gangers in reverse for the others – both a joy on wet roads! Spirits were high as we neared the finish, the thought of warm showers and dry clothes spurred everyone on. And luckily the route ended in a pub where we sat with warming glasses of brandy or whisky while eating a roast; one could have mistaken this for a winter's day!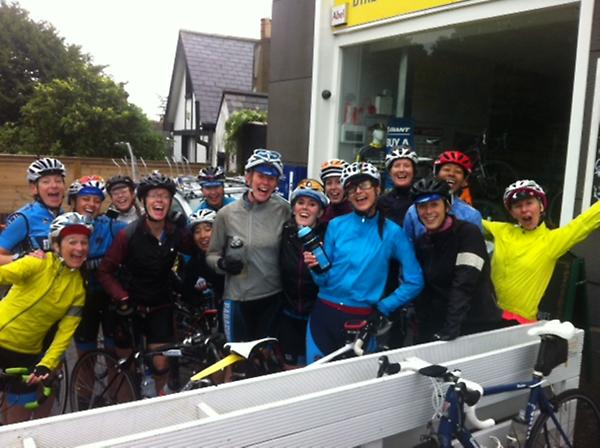 All in all, it was a great day, those routes would have been nowhere near as nice in the sunshine… Hope to see you all next year!
80th Anniversary rides – some dates for your diary:
Sun 16 Aug – London-Brighton-London (lead: James Brooke-Turner) 200k return route with optional bailout points to return to London by train
Sun 6 Sep – The Morelli Ice Cream Quest (leads: David Joss Buckley / Gary MacGowan) 130k ride to Morellis 1950s gelateria in Broadstairs, with four more 1950s gelateria en-route, train home
Sun 13 Sep – Tour of Britain final stage   we'll take over a corner of the route to spectate at the fantastic new London final stage route with beer!
Sat 25 Sep – The Pilgrims Pain (leads: Rahal Goonewardene / Jeremy Beswick)  80k ride featuring serpent-like ascents and descents of the North Downs from the Pilgrims Way
TTFN
Well that's just about it for now, thanks for reading!
Look out for the forthcoming part two containing ride reports on: Cambridge Gran Fondo; Ditchling Devil; the Etappe du Tour; Windsor-Chester-Windsor 600km audax and Dunwich Dynamo.
But before that, an alternative take on Ditchling and indeed, the traditional report format, from Paragon's Poet Laureate… (What next, a haiku or New Wave chanson?)
Ode to the Ditchling Devil – David Wadsworth waxes lyrical:
For the DP newsletter, only this time briefly
A request by Sara Barman – poetically?
The first Joe Booth, Jeremy Beswick and James BT
Hans van den Berk, Debs McLauchlan, Maria Hedley
Not forgetting Perry Roscorla and yours truly
On the DP Ditchling Devil train – for scenery
It was well short of being officially hilly
Collecting Brevet cards, Randonneur Category
From Wimbledon to Brighton, post-doughnut and coffee
In the sunshine, then to the egg and bacon sarnie
At the first feed stop with biscuits and plenty of tea
On the grass at Highbrook Village Hall, Near Ardingly
Onward and upward we rode to the coast, Southerly
Without route sheets, losing our way occasionally
Powering up the Beacon and the Dyke punchily
Then with a pause for photos, ice cream and Twittery
For lunch – warm rolls, pasta but no plastic cutlery
Then dessert – rice pudding and peaches for energy
Whilst Maria rearranged her cleavage carefully
Plucking a ripe banana from there quite gingerly
Before off we tore to Chiddingfold spiritedly
Our fastest stage by far – shouting forwards: 'Wait for me!'
Afternoon tea with Victoria Sponge and a brownie
Fairy cakes, cream cheese scones – trying not to be greedy
For the final 1 in 4 elevation up Coombe Lane especially
And for the sprint home a definite necessity
The climb to Richmond we avoided decidedly
To The Rose of York pub we rode, not hesitantly
As by now for beer we had become rather thirsty
With all bar staff unfortunately in no hurry
Approached by a regular, he exclaimed quite friendly
'You cycled all the way here from Dulwich? How crazy!'